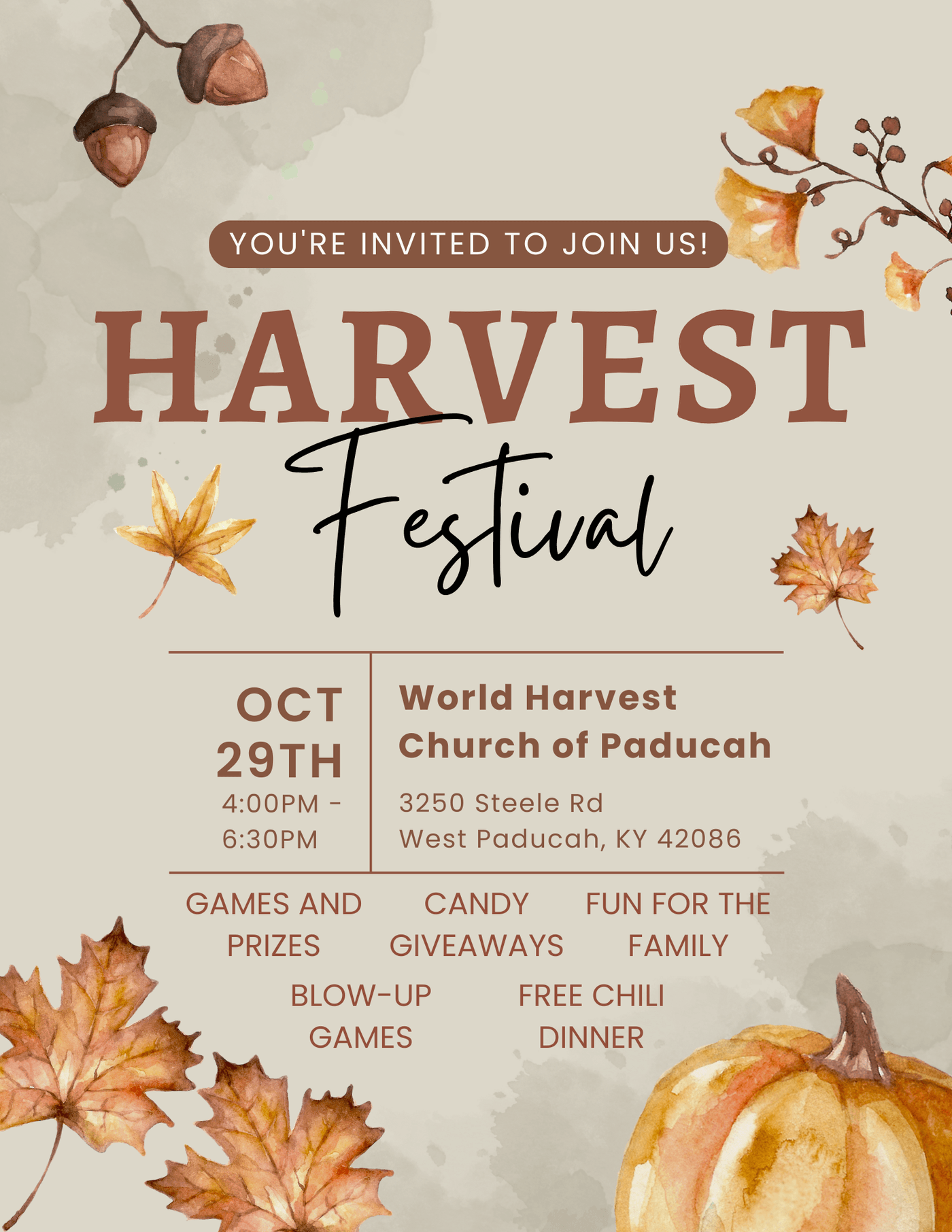 Event Details
Date: October 29th, 2022
Time: 4pm-6:30pm
Location: World Harvest Church of Paducah
This year WHC is offering a Halloween alternative on Saturday, October 29th! We're calling it The Harvest Festival! We are excited to bless our community with a safe, fun, and Godly time! We will have food, carnival games, blow-up games, candy, and more!
We are encouraging everyone to wear costumes this year! We ask that the costumes be fun and non-scary since we'll have a lot of little ones around.
Everyone is invited and welcome! Invite your friends and bring your family!
Scroll down if you'd like to volunteer to help us to put on this event!
Donations Needed
We will be accepting donations in a tote in the lobby from now until the night of the event. In that tote we're asking that you drop off:
Candy
2 Liters (for prizes)
Food Donations
If you were planning to donate food, for simplicity's sake for our volunteers, we are taking monies for food instead of actual food items. With that money we will buy the food in bulk and that will allow us to know exactly how much we have and make planning much easier.
If you'd like to donate toward food you can make out a check to WHC and in the memo line write Harvest Festival Food or you can fill out an offering envelope if you plan to give cash. You can drop those in the regular offering. As long as they are clearly marked they will go to the correct place!
Volunteer Help
We need volunteer help as well! An event like this takes a lot of planning and help from loving people. If you're available to help, let us know below, and we can assign you to a team to help!
We are so thankful for your faithful effort and kindness to give and help to make this event a success and an outreach to our community!
Game Volunteers
One significant need we have is volunteers to be attendants at the various carnival games and blow-up games we will have on-site. The shifts for game attendants will be 30 minutes. With all of the games we're having, we have many slots to fill that night, so if you are willing to be a game attendant, let us know, and we will plug you in!
Volunteer Sign Up!