We know meeting someone for the first time can be intimidating, and going to a new church for the first time can be as well. We want to help make your first experience at WHC a great one!
SERVICE TIMES
Sundays at 10:30am
Wednesdays at 7:00pm
LOCATION & DIRECTIONS
For turn by turn directions on your mobile device click here.
3250 Steele Rd.
West Paducah, KY 42086
We are located right across Highway 60 from Barkley Regional Airport in West Paducah, approximately 2.5 miles west of McCracken County High School.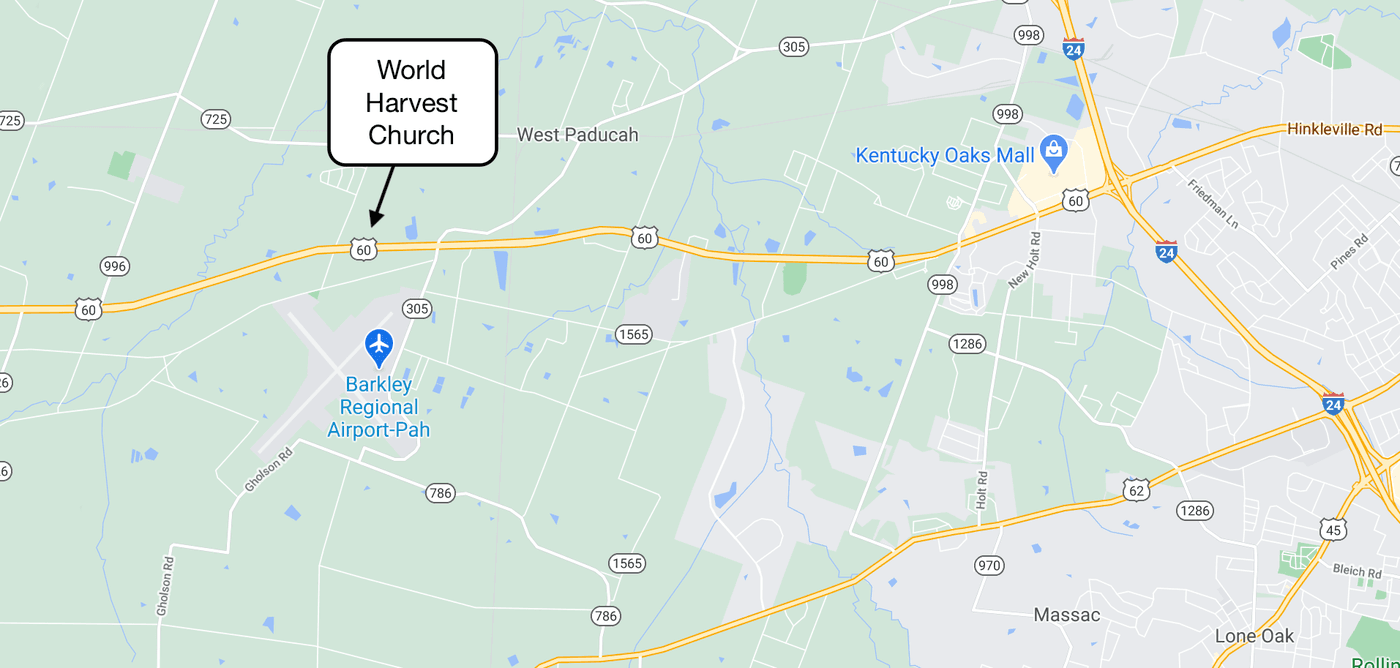 What can I expect?
What's the culture like at World Harvest Church?
Our heart is to bring honor and glory to God in our dress and conduct. You'll see Pastor and many men wearing suits and ties and ladies generally wearing dresses. This isn't to say you have to wear the same thing, we are honored at the opportunity to minister to you and your family! We welcome anyone who has a heart to be fed the Word of God and be a doer of that Word.
What about my kids?
WHC offers life-changing, Word-based, relevant ministry to children of all ages!
The following is a breakdown of our various children's ministries by age group.
Birth-6yrs
7-11 Years (Sunday AM only)*
12-21 (Wednesday PM only)
Children's Church check-in starts 15 minutes before each service.
As you enter the front doors look for the children's check-in banner to point you to the check-in station just around the corner under the Harvest Kids logo on the wall! Our Harvest Kids volunteer will help you check your child in and answer any further questions about childcare.
*Note to Parents: Every First Sunday of the Month is what we call Family Sunday at World Harvest Church. Children aged 6 and up will be in the sanctuary with their parents.
Let us know you're coming
Ready to check out WHC in person? We can't wait to meet you! Simply fill out the form below and we'll make sure to give you the VIP treatment upon your first visit.